Finished
WD3
1
7
TTR
MMP
Nov. 1 8:00 pm
Finished
D4
1
5
BDB
HIV
Nov. 2 6:00 pm
Finished
WD2
7
2
GLZ
TBD
Nov. 2 7:00 pm
Finished
D3
3
2
RAY
DoH
Nov. 2 7:15 pm
Finished (OT)
D5+
2
1
CUL
BDB
Nov. 3 7:00 pm
There is a league for every one to join in on the fun at QC Dekhockey!
To get your team registered for the season, email us at [email protected] for a registration form, get registered online, or stop by the QC Dekhockey pro shop located at Crow Creek Park.

Don't have a team or don't have a full team of 7-10 players? No problem! Register online or in person, as a free agent, and we can place you on a team for the season!
Interested in becoming a substitute player for the season? Get registered as a sub to fill in throughout the season! Substitutes will be charged $12 per game including game equipment. (Check complete regulations for substitutes).
QC Dekhockey offers a women's league that runs for 2 seasons: Spring and Summer/Fall League. Each season consists of 7 regular season games, playoffs and a championship game! Teams consist of 7-10 players including a woman goalie. A Dekhockey game is 50 minutes with 3 periods of 13 minutes. Each game has a certified referee, scorekeeper with LIVE on-line stats and score results, team standings, game highlights, player stats, team schedule, and players of the week.
Adult Women Dekhockey games are held Monday's the first game starting at 6:00pm and the last beginning at 9:00pm. The only equipment required for Dekhockey is; a helmet, shin pads, gloves, and a Dekhockey approved stick (plastic blade/wooden shaft) All equipment is available for rent or purchase at our Dekhockey pro shop on site. http://www.qcdekhockey.com/custom-page.php?pg_no=21
Registration forms must be completed at least 2 weeks before the beginning of each season.
The team captain is responsible for turning in registration (roster and team fee), making sure team is aware of the basic regulations and paying the registration fee of $800. Registration fee is to be turned in at the time of the reservation.. An informational meeting will be given to the captains before the start of each season with the explanation of rules and the game of Dekhockey.
We encourage players under the age of 18 and will be permitted to play with a signed parental consent issued from QC Dekhockey.
🚨NEW WOMEN'S PLAYER RANKINGS AND DIVISIONS FOR THE 2020 SPRING SEASON🚨
📣📣📣📣📣📣📣📣📣📣📣📣📣📣📣
💥DIVISIONS💥
WD2 = Salary cap: 18 POINTS MAX
WD3 = Salary cap: 6 POINTS MAX
💥Women's rankings💥
WD6 = 0 points
WD6+ = 1 point
WD5 = 2 points
WD5+ = 4 points
WD4 = 6 points
WD4+ = 10 points
WD3 = 15 points
To see a player's rank, follow these steps:
-go to qcdekhockey.com.
-click on players, then player list.
-you will then be on the "search a player" tool.
-search any player and beside her name will be her "forward" and "goaltender" rank.
🚨If you are concerned about a player's ranking and would like a ranking review, you may email [email protected] for player to be "reevaluated". The player in question will be looked into and re ranked if necessary.
🚨Please email us if one of the following:
-If you have multiple player profiles (please note: it is normal to have (1) "sub" profile and (1) "regular" profile).
-If your "sub" player profile and "regular" player profile both have different rankings.
-IF YOU DID NOT PLAY LAST SEASON AND DON'T HAVE AN UPDATED RANKING.
-If you have any concerns about your ranking.
🚨VERY IMPORTANT! Please take time to look into the new divisions for the upcoming season and what the player ranking restrictions are for every level.
🚨IT IS THE TEAM'S RESPONSIBILITY TO MAKE SURE THEIR ROSTER IS LEGAL WHEN SIGNING UP AND PRIOR TO EVERY GAME.
🚨 A player can be rostered on more than one team (in different divisions) but can only be rostered on 1 team within the same division.
🚨 Subs are legal as long as the salary cap is respected at each game.
🚨 2 season games are required for a sub to be eligible for playoffs. 1 game for a goalie to be eligible for playoffs. In playoffs a sub can only play on 1 team (per division).
🚨 MUST be 14 years old minimum to play in the women's league.
🚨 You can roster 10 players MAX on a season roster.
🚨 No warnings will be given to a team who doesn't respect the rules. It will result in an automatic forfeit.
🚨 Teams have 24 hours following a game to contest a game due to an illegal roster. Once the 24 hours has past, the game is considered FINAL.
🚨IF A PLAYER IS NOT RANKED IN A NDA LOCATION (Waterloo, Springfield, Quad City), TEAM CAPTAIN MUST EMAIL QCDEKHOCKEY TO GET A TEMPORARY PLAYER RANKING FOR THE PLAYER(s).
🚨The NDA has the right to change a player's ranking if judged necessary.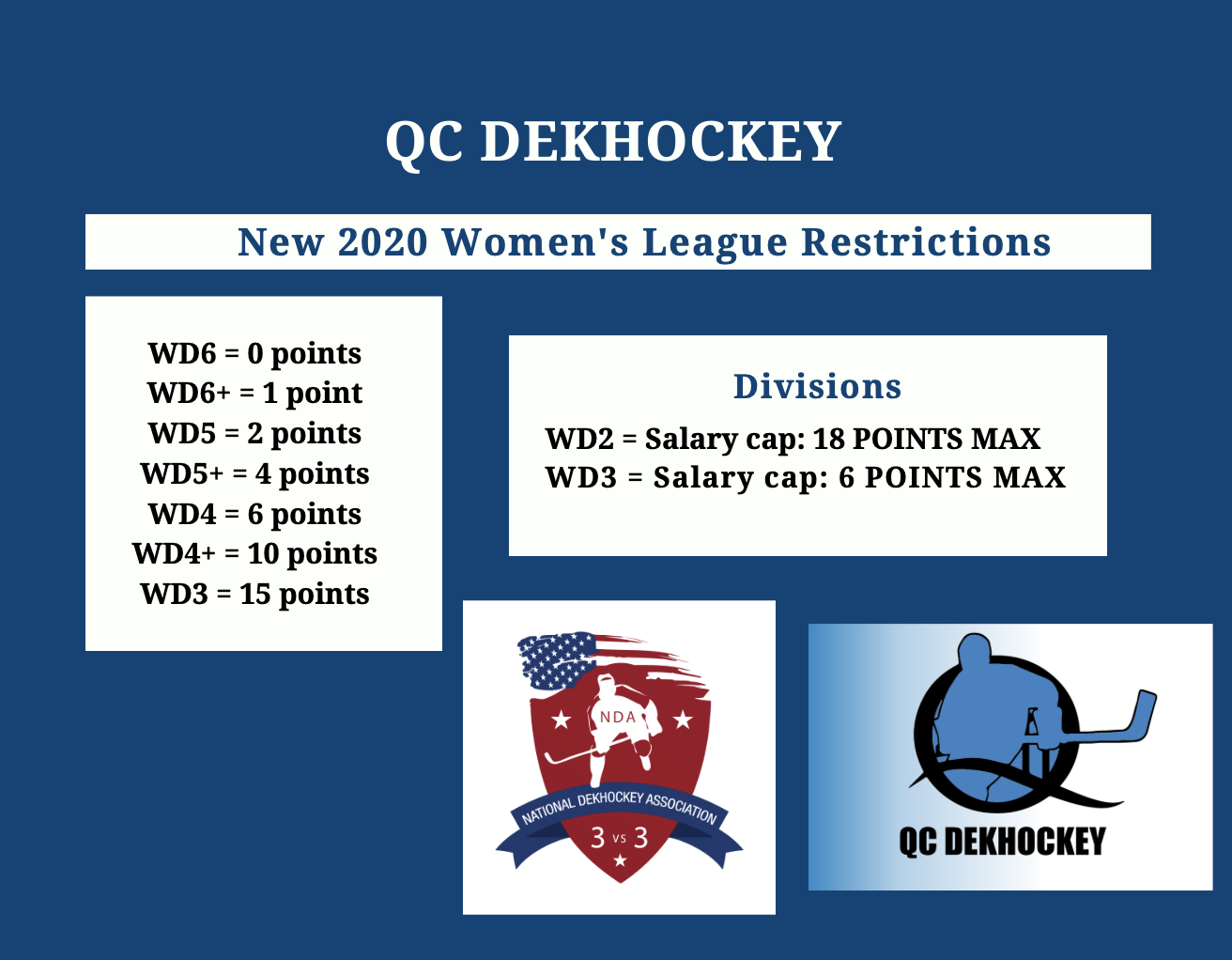 x
Term of use Shark Media & Sport
The content of this site is private and purely informative. The rights of a visitor to this site cannot, therefore, be derived from the content of this website. This website is operated by and was created by SHARK MEDIA & SPORT. The data contained within this website are the intellectual property of and are copyright-protected. The data herein cannot be copied or reproduced without the prior consent of or SHARK MEDIA & SPORT, other than in contexts requiring on-line searches. However, you may print out entire pages of this site for personal use. For further information about the use of this site, please communicate with SHARK MEDIA & SPORT.